This post may contain affiliate links. If you use these links to buy something we may earn a small commission. Thanks.
An escutcheon is used in bathrooms and kitchens to hide the holes in walls that pipes come through. Also known as a flange or cover plate, the primary function of an escutcheon is to provide a tidy finish for plumbing work that has been carried out.
To carry out their function, escutcheons are available in a wide variety of different shapes and sizes. You will also be able to choose from a range of designs, so the deck plate matches the style of the room it is being installed in.
Escutcheon rings are also used around the base of a faucet to provide a clean finish and hide any gaps.
An escutcheon is just one of many different parts of a faucet.
---
What is the Purpose of a Faucet Escutcheon?
During the installation of a new faucet, shower, or toilet, your plumber will either use fixtures with holes in them, or they will have to drill holes in your wall for the pipes.
An escutcheon is used to tidy up and hide holes behind showers, toilets, and sinks. Some escutcheons will be found underneath sinks in the cabinetry, and escutcheons cover unused holes in pre-prepared units.
How does an Escutcheon work?
During almost any faucet installation, an escutcheon will be used. This makes it more accessible during a kitchen or bathroom renovation for the plumber who can remove the escutcheon and install the new fittings. The old escutcheon can then be reused or replaced if it does not match the unique style.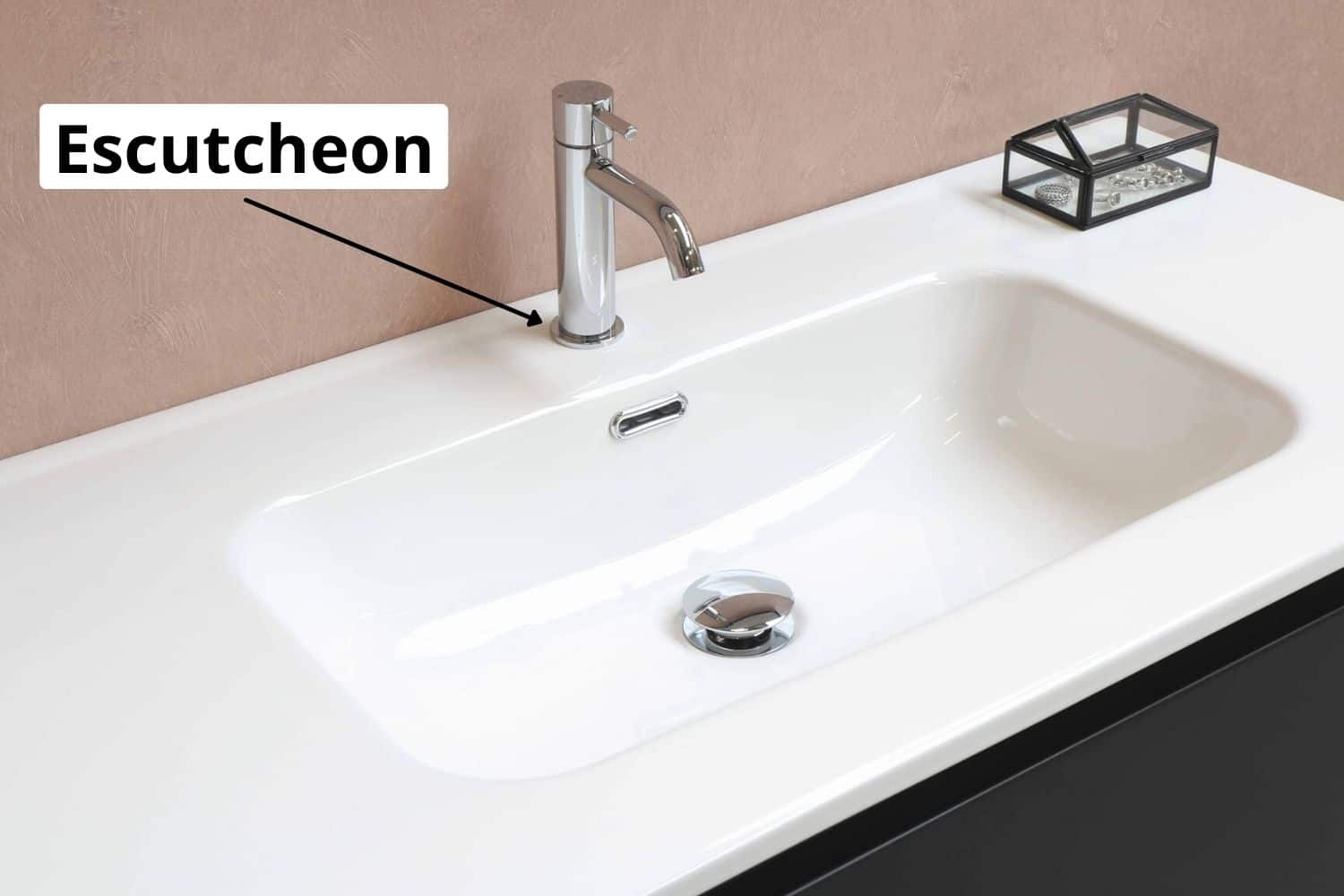 ---
Do You Need an Escutcheon Plate?
It is not always necessary to install a new escutcheon. If the sink being used is prepared specifically for the faucet design you have chosen, there will be a good fit with no excess holes.
It is also possible to make use of sink holes with in-counter soap dispensers, an instant hot water dispenser, or a water filtration unit. We will look at these options in more depth later in the article.
---
Escutcheons Types on a Faucet
There are different types of escutcheon available for faucets. This wide choice allows the fitter to find the perfect solution for any eventuality.
Escutcheon Rings
You will find that Escutcheon rings are relatively rare these days. However, they can still help to provide a nice finish to the overall aesthetic of your new bathroom or kitchen. They are fitted around the bottom of the faucet and help to hide any gaps.
Deck Plates
Escutcheons are also known as deck plates or cover plates, and are designed to be fitted at the rear of a faucet and are great for covering unused holes.
They are available in a selection of styles, shapes, and sizes, and some are designed for specific faucets. You will be able to select from three-hole hide plates to no hole. Because of this, you should always check how well a specific deck plate will match your faucet and sink.
Remodelers' Plate
The remodeller's plate can be used to hide the holes needed for the faucet valve. It can also cover holes created to repair valves or leaks.
The remodeller's plate is also known as the Smitty plate or Retrofit plate and can help you save money refurbishing walls by covering up the access points.
---
Selecting the Perfect Escutcheon for Your Faucet
When choosing a new escutcheon for your faucet, there are a few essential things you will have to remember to make sure you select the perfect one.
The first thing to consider is the size and shape you will need. If you need to cover holes, make sure the sink hole cover is long enough.
You will also have to ensure the finish of the metal plate is in keeping with the rest of your sink and faucet combination. Whether it is brass, stainless steel, or brushed nickel finish, you will be able to locate a suitable size and style to suit your needs.
---
How Do You Remove an Escutcheon Faucet?
Removing an escutcheon is typically a straightforward job. Just follow these simple steps.
Step 1
The first thing you will have to do when you plan to remove an escutcheon is to turn the water off. Turn your water shutoff valve counterclockwise to do this.
Step 2
To remove the faucet and handles, you should first take off the decorative cover on the handle that covers the main screw. You can use a small flat head screwdriver to do this. You can then unscrew the handles and remove them and the faucet.
Step 3
After removing the faucet and handles, you will be able to see whether the escutcheon has been attached using caulking or if it has been screwed in. You will be able to unscrew and remove for the latter.
An escutcheon attached by caulking will require you to gently cut through it using a plastic putty knife before you can remove it from the wall.
---
Options for Covering Sink Holes Without an Escutcheon
As previously mentioned, an escutcheon is not the only option available when it comes to covering an unused sink hole. Here are some of the other most popular choices.
In counter soap dispensers
In counter soap dispensers are a great way to make use of an extra sink hole and maximize the space around the sink area. The bottle's body containing the liquid soap will be below the hole, beneath the sink, with the dispenser coming out above.
Soap dispensers that can be unscrewed and refilled from above are convenient as they save you from having to go beneath the sink to do this.
They can be purchased in a variety of styles, including brass, chrome, or stainless steel finishes.
Instant hot water dispensers
Instant hot water dispensers are a very popular choice in modern kitchens. They deliver near-boiling hot water instantly, making them great for tea and coffee drinkers, new parents making warm baby bottles, cleaning dishes, and cooking.
Models are available that also have a safety lock for families with young children.
Water filtration unit
Water filtration units are ideal for healthy drinking water. Much cheaper than bottled water, they protect against many contaminants commonly found in tap water.
Garbage disposal switch
Using Air Switch Kits, you can install a garbage disposal switch into an unused sink hole.
Simply plug the Air Switch into the electrical wall outlet beneath your sink, and connect the garbage disposal unit to it. You will be able to select a style that matches your faucet sink configurations.
---
How to caulk around an escutcheon on a faucet?
Properly caulking an escutcheon can help to protect against leakage. Even a tiny leak can cause mold or rot to develop behind walls.
To caulk an escutcheon, you will need:
Caulk
Trowel
Screwdriver
Sponge
Step 1
Always ensure any surface you are about to work on has been cleaned and thoroughly dried. When you are ready to install your new escutcheon, apply the caulk to the edges of the escutcheon using your trowel.
Press the plate firmly against the wall when you have covered the entire edge of the escutcheon.
Step 2
You can now use your screwdriver to scree the escutcheon plate in place. At this point, you should apply a thin layer of caulk around the edges to seal it. As this happens, the caulk should start to squeeze out from beneath the plate.
Step 3
Allow 24 hours for the caulk to dry before applying a second layer. Wipe away any excess caulk and ensure you have a tidy finish.
Step 4
Allow a further 24 hours for the second layer to dry before inspecting the work to ensure there is a complete seal around the escutcheon plate.
---
FAQs
How do I clean faucet escutcheon plates?
You can clean an escutcheon plate the same way you clean the rest of your faucet, especially if you have purchased one made from the same material.
It is possible to buy bathroom cleaners that can help to keep them in good condition. Vinegar can be used on chrome fixtures, and baking soda is also a great way to remove stains.
A little baking soda on the end of a toothbrush with a bit of water can be used to scrub away any buildup.
How do you measure an escutcheon?
Because escutcheons provide an aesthetically pleasing finish to a plumbing job, you will want to ensure they fit flush with the pipe. The wrong size escutcheon can scratch and damage the new fixtures and will look messy.
You should never go with the internal dimensions of a pipe as materials may have a different thickness. For example, a 1″ steel pipe and a 1″ copper pipe will have the same 1″ dimensions inside, but the diameter of the pipes on the outside may differ enough to influence how well an escutcheon may fit.
Always measure the outside diameter of the pipe before going to your local hardware store. If you are unsure, you can take your measurement and take pictures of the pipe and details of the material to the store for advice from someone who works there.
---
Final Thoughts
The benefit of using a faucet, toilet, or even shower arm escutcheon plate is evident when you consider the time and effort you put into choosing a new bathroom or kitchen. To leave them looking a bit messy or even unfinished is not an option.
Thankfully escutcheon plates are relatively cheap and easy to install or remove and can give you the finish you want.
Selecting an escutcheon plate can be tricky. However, most faucets will either come with one or have suitable options available by the same manufacturer.