This post may contain affiliate links. If you use these links to buy something we may earn a small commission. Thanks.
Selecting the perfect fixtures and fittings for your bathroom is not always a case of just picking the first thing that you like the look of. This is especially true when choosing bathtub faucets.
Depending on the type of bath you have, you may have to select a particular kind. This is true of roman tub faucets. Due to the style of the tub, a wall mount tub faucet will not work.
---
What Is A Roman Tub Faucet
A roman tub faucet would usually come with two handles for controlling the water temperature and pressure, although it is possible to find triple or single-handled roman tub faucets.
Roman tubs are usually deeper, allowing you to submerge more of your body to enjoy a luxurious soak. You will also find that a modern roman tub has a deck mount bathtub faucet.
A deck mount tub filler is where the faucet is found on the deck around the bath rather than traditional baths, where you will find a wall mount bathtub faucet or faucets that come through the wall of the tub itself.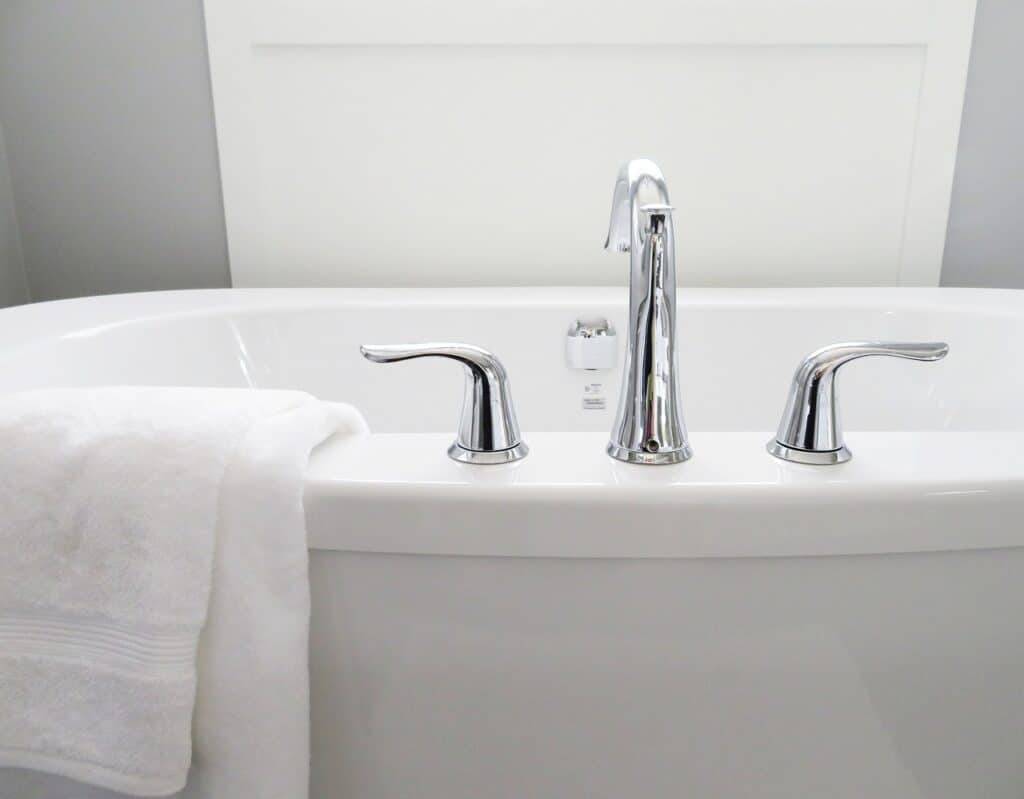 Because these are deck-mounted faucets, they will require a hole for each handle and one for the spout. If the faucet comes with a sprayer, another hole in the deck will be needed for this.
You will find the spout on a roman tub faucet extends out over the tub and is typically longer than a garden tub faucet.
---
Where Does the Roman Tub Faucet Go?
Selecting where to put a roman tub faucet is one of the most important decisions you will make. As it will be located on the deck, you will have to ensure this does not impede you from getting in or out of the bath. A poorly positioned faucet can be both inconvenient and dangerous.
---
Are Roman Tub Faucets Interchangeable?
In some cases, roman tub faucets can be interchangeable. You will have to check the existing faucet to see what kind it is before making sure the parts on your new one are compatible.
If you are planning on replacing your faucet, make sure the tub spout and handles are compatible and check how many holes are needed.
Changing your roman tub faucet should be relatively straightforward, but you should always try to consult the manufacturer's instructions for any details.
To install a new faucet, you will need the following tools and equipment:
Hex key
Screwdriver
Channel locks
Plumbers grease
Putty knife
When you have the equipment in place, follow these simple steps or consult the manufacturer's instruction manual or website to replace a roman tub faucet.
Step 1
Buying a faucet that is not compatible can still be fitted, but you may need more expert help to do this. Purchasing a replacement faucet that you know is compatible will save you a lot of time and expense.
Step 2
Shut off the hot and cold water supply. You should be able to do this by turning the handle on the water lines to a 90-degree angle.
Step 3
You can now remove your old faucet. You will either have to remove the hex bolt or screws or unthread the handles. If you do this before purchasing your replacement, you will be able to see what compatible options you are looking for.
If the stem extension cartridges are old, you can remove and replace these at this point before removing the bathtub spout by unscrewing the bolt with the hex wrench. If the valve body is not compatible with the new faucet, you will have to replace this.
Finally, if the tub has a handheld shower, you will be able to remove the shower diverter by removing any nuts, bolts, or screws that are holding it in place.
Step 4
To install the roman tub faucet that you bought to replace the old one, it's just a case of reversing the process. Installation is a relatively simple job as long as the parts are compatible.
Read more: How to replace a two handle bathtub faucet
---
What is the Flow Rate for a Roman Tub Faucet?
Where kitchen faucet flow rates are limited to stop water wastage, this is not the case for bathtubs. This allows you to fill a bathtub relatively quickly.
Because roman tubs tend to be quite deep, you must select a high flow rate if you want to be able to fill it in a short space of time.
The following flow rates let you know how quickly you will be able to fill your tub.
Standard flow rate – 4-7 gallons per minute
High flow rate – 7-11 gallons per minute
Quick filler tub faucet flow rates – Up to 16 gallons per minute.
---
What is the Difference Between a Garden Tub and Roman Tub?
Both garden tubs and roman tubs are relatively similar and often referred to as a soaking tub. They are typically large, deep tubs with enough space to submerge your whole body. They are seen as a more luxurious option than standard bathtubs.
The main difference is that a garden option will always be a freestanding tub, and a roman tub faucet will be mounted in the tub deck.
---
FAQs about Roman Tub Faucets
How do I identify a Roman tub faucet brand?
You will be able to shop all the top faucet brands, including Kohler, Pfister, Moen, Delta, Danze, American Standard, Brizo, Grohe, Hansgrohe, Design House, Kingston Brass, Newport Brass, Rohl, TOTO, Graff, California Faucets, Axor, and many more.
Are Moen Roman tub faucets interchangeable?
Not all Moen faucets are interchangeable, and you will have to check the model to ensure it will be compatible.
How do you remove a Roman tub faucet handle?
You will be able to remove your faucet handle by either unscrewing the screw under the decorative cap or on the back of the handle or turning the base of the handle counterclockwise with channel locks or by hand.
---
Final Thoughts
If you see your bath time as more than just a way to get washed and enjoy soaking in a tub to unwind, you might want to consider a roman tub. They make a great focal point for a bathroom and are perfect for relaxing in.
When selecting your deck mount faucet style to suit your bathroom design, you will have many options. The traditional style of faucet always looks great, but for a more up-to-date look, you can always look at a more modern style.
With so many types of bathtub faucets on the market, you will be spoilt for choice, and if you find you have to replace them, you will have lots to choose from to find exactly what you need.
They are the perfect mix of ancient Rome and modern luxury and look great in any bathroom.